Global Station for Big Data and Cybersecurity (GSB), GI-CoRE will hold a lecture series "Wireless Sensor Networks and IoT for Graduate Students" as part of the 'Hokkaido Summer Institute 2018' from Monday September 3rd to Friday September 7 as first half, and Monday 10 September to Wednesday 12 September as second half.
This lecture series is open to Hokkaido University faculty and students (M, D) .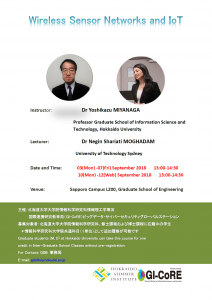 Details are available at Hokkaido Summer Institute (HSI) 2018 Official Website.
Date and Time
September 3 (Monday) – September 7, 2018 (Friday) 13:00-14:30
September 10(Monday) – September 12, 2018 (Wednesday) 13:00-14:30
Venue
Sapporo Campus L200, Graduate School of Engineering Bldg., Hokkaido University
Instructor
Professor Yoshikazu Miyanaga
Graduate School of Information Science and Technology, Hokkaido University
Lecturers
Dr Negin Shariati MOGHADAM
University of Technology Sydney