ホームページ移転のお知らせ
北海道大学国際連携研究教育局(GI-CoRE)ビッグデータ・サイバーセキュリティグローバルステーションは、2016年4月の設置以来、これまで本学総長直轄の組織として運営されてきました。
このたび設置期間を満了し、2021年4月1日からは、情報科学研究院ビッグデータとIoTに関する協同センター(CCB)に活動が引き継がれることとなりました。これに伴い、現在、CCBのホームページを作成しておりますので、完成次第、正式に公開させていただきます。
CCBは、本学総長から「GI-CoRE協力拠点」としての認定を受け、GI-CoREと協力して、なお一層の国際共同研究・教育を実践してまいりますので、今後ともご支援のほどよろしくお願いいたします。
Notice of the Website Relocation
Since its establishment in April 2016, the Global Station for Big Data and Cybersecurity of the Global Institution for Collaborative Research and Education (GI-CoRE) has operated as an organization under the direct control of the President of Hokkaido University.
As of April 1st, 2021, however, the GSB has transitioned into the Collaborative Center for Big data and IoT (CCB). In accordance with this change, our website is currently under construction and will be available shortly following its completion.
We proudly announce that CCB has been certified as a "GI-CoRE Cooperating Hub" by the President to further promote and develop international collaborative research and education in cooperation with GI-CoRE. We appreciate your kind understanding and continued support.
About GSB
GSB was launched in April 2016 as an interdisciplinary research hub to cover big data, information network, and cybersecurity, promoting international collaborative research with the University of Massachusetts Amherst (UMass) and the University of Technology Sydney (UTS). This global station will also be a base to establish a new graduate-level course, Division of Cyber Informatics, and foster "IT top-gun" human resources who can actively and globally work on information-oriented society.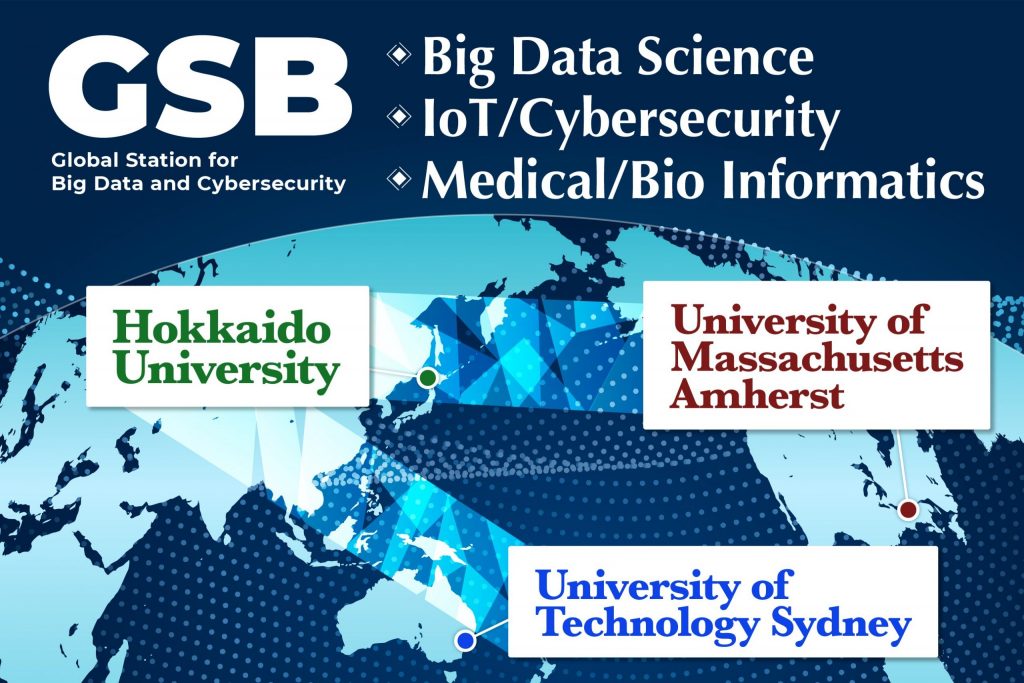 Research Areas
*Big Data Science
*IoT (Internet of Things)/Cybersecurity
*Medical/Bio Informatics